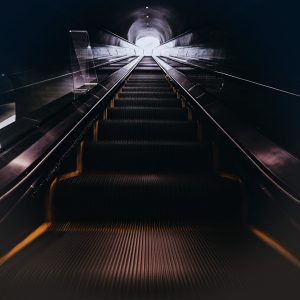 The first operational escalator was patented in 1892 and installed on Coney Island, New York, as an amusement ride.1 It was made principally of wood but metal fabricated escalators soon followed. The first reports of escalator-related injuries in Europe appeared in London in 1969.2
Escalator accidents can result in severe trauma. In the United States (U.S.), about 10,000 escalator-related injuries requiring emergency department treatment are reported annually.3,4
Today the escalator is a very common means of moving people. Because escalators are ubiquitous, it is, however, not surprising that they have also attracted negative attention as an accident location.
You may not realize an escalator can be a dangerous mechanism. You may be going about your day, going from point A to B and not know that the owners failed to properly maintain the conveyance. The maintenance engineer might not have been tasked with fixing the jolting motions of an aging motor. Your normal expectation of a simple device that you could normally breeze through might end in an injury that changes your life. If you do not act quickly, injury can lead to tragedy.
If you've been injured, you need an attorney with the dedication and diligence to lock the evidence down and make sure surveillance footage doesn't disappear. We've handled these types of cases for a couple decades now and understand what to look for and how to protect your interests. Get a free consultation and call us at no obligation if you've been hurt. There is no risk like waiting.
CITATIONS
Image by Public Co from Pixabay
DISCLAIMER: The information herein is for educational purposes only and does not constitute legal advice. For any legal matters, you are urged to take the advice of an attorney familiar with your case.