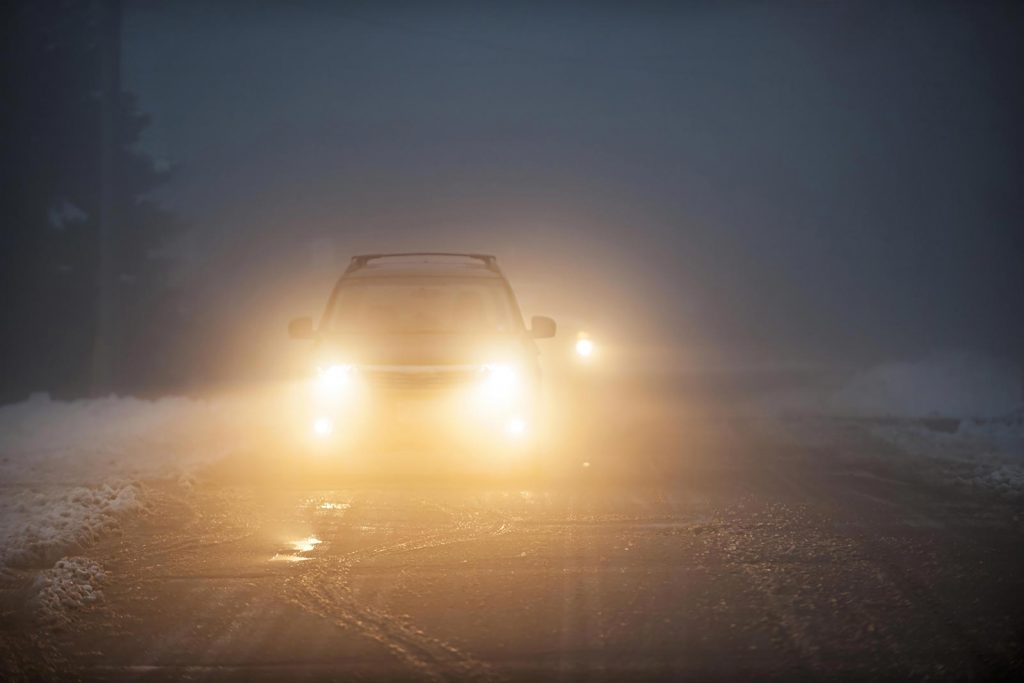 How does severe weather impact driving?
Severe weather conditions can have a significant and negative impact on a drivers ability to control their vehicle. According to the Federal Highway Administration, severe weather can impair visibility and negatively impact a drivers capabilities, as well as vehicle performance. Here are how some severe weather conditions impact driving:
High winds can decrease visibility distance (due to blowing snow, dust) and create lane obstruction (due to wind-blown snow, debris).
Fog can also decrease visibility, but it can also decrease the amount of friction between a vehicles wheels and the pavement.
High water levels and precipitation can decrease visibility and cause vehicles to hydroplane.
These conditions, and others, can impact traffic speed, cause travel time delay and increase the likelihood of accidents occurring. Drivers should remain alert in the best of driving conditions, but when severe weather strikes, it becomes even more critical that every driver take steps to protect themselves.
What can drivers do to protect themselves when severe weather strikes?
The American Red Cross has provided guidance on how to stay safe when driving in severe weather. They recommend the following:
Be Prepared Drivers should check the weather forecast for your entire route. Drivers will also want to let someone know that they are traveling, have a disaster supply kit in the vehicle and pack extra food supplies.
Check Your Vehicle As you prepare to leave, it is important to check your vehicle to make sure it has adequate fuel, that all lights are operational and all tires are properly inflated. Also remember that it is always important to wear a seatbelt and understand your vehicles capabilities and limitations.
While Driving According to the American Red Cross, if you are caught in a storm while driving, turn your headlights on and try to safely exit the roadway and park. Stay in the vehicle and turn on the emergency flashers until the heavy rain ends.
Furthermore, if thunder and lightning is occurring, avoid touching metal or other surfaces that conduct electricity in and outside the vehicle.
Always remember that different weather conditions call for different approaches to driving. Driving in high winds can impact your vehicle differently than snow or rainy conditions. Each type of weather presents unique issues to drivers and no two situations are exactly like the other.
For example, hydroplaning can be incredibly stressful for drivers but, according to the DefensiveDriving.Com, the most important thing for drivers to do when their car begins to hydroplane is to stay calm and not panic. Drivers should not brake or accelerate suddenly but should (depending on the type of vehicle) accelerate lightly towards a clear space. Having control over speed during severe rain conditions is why experts suggest that drivers should not use their vehicles cruise control capabilities.
What should I do if I am hit by someone who was driving recklessly in severe weather?
Contact one of the experienced Duluth and Peachtree Corners accident attorneys at McGahren, Gaskill & York if you have been injured by a reckless driver. Drivers should always use caution when driving and this is doubly important when driving in severe weather. It is important to get an attorney working for you immediately if you have been injured by someone who was not taking the proper precautions.
DISCLAIMER: The information herein is for educational purposes only and does not constitute legal advice. For any legal matters, we urge you to take the advice of an attorney familiar with your case.