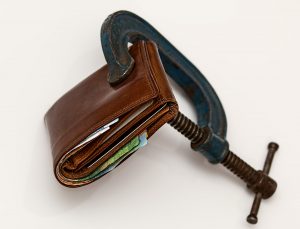 We often encounter clients strapped for cash due to an injury or sudden change in economic conditions. Waiting on the results of a settlement can be frustrating as the process can take a long time. But the bills keep coming, and short-term loans to get them through a loss of income or pay medical bills are an attractive solution.
While Medpay, PIP or health insurance may assist with paying the medical bills, they do not help cover lost income. Loans may be necessary to help replace lost income. As such, some clients turn to Pre-Settlement Funding loans. These loans, which are backed by the potential settlement claim, are relatively easy to obtain and do not impact a client's credit rating, making them seem like a good alternative to a credit card or other personal loan.
However, the fees associated with pre-settlement funding can be substantial. For example, one of our clients borrowed $500 a less than a year ago to cover a short-term hardship and now owes $2,700. That's nearly 440% interest!
Pre-settlement funding companies justify these exorbitant fees due to the risk associated with loaning against a potential settlement. If the case goes bust, the funding company does not get paid and has no recourse to seek payment from the client. This rationale is flawed as pre-settlement companies rarely loan against risky cases where liability is not clear, which virtually guarantees some amount of the settlement. Overall, their risk is much lower than claimed.
Paying off a pre-settlement loan could potentially take a significant bite out of a claimant's portion of the settlement. When a case settles, the pre-settlement company is paid back first out of the claimant's portion of the settlement. Unlike medical providers, pre-settlement companies rarely negotiate their liens. This usually results in a much lower settlement payment and a nasty surprise for the client at the settlement table.
5 Reasons Not to Use Advance Settlement Funding or Pre-Settlement Funding:
Extremely high interest rates;
Loans are not due until the case is resolved which can take years, with interest accruing all the while;
The cost of the loan may put pressure on a borrower to settle a case prematurely for less than they deserve;
The loan agreement is a lien against the settlement of a case and is repaid before the client gets a dime of the settlement;
The advanced settlement funding company may require information which could result in the waiver of attorney-client privilege;
We are not alone in noticing a problem. In a non-binding advisory ethics Opinion 00-3 from the Florida Bar from March 2002. https://www.floridabar.org/etopinions/etopinion-00-3/ "The Florida Bar discourages the use of non-recourse advance funding companies. The terms of the funding agreements offered to clients may not serve the client's best interests in many instances. …"
As we offer this warning, we don't want you to be confused with "Healthcare Funding" or "Injury Finance," which is financing that pays the doctor. These lenders make their money by negotiating rates directly with the doctors and do not charge interest to the client. This prevents you from having the big surprises at the end of a settlement and building up debt.
Due to ethical considerations and potential conflicts of interest, your legal representative can point you to various finance options but should not be endorsing an option or helping you get a loan.
DISCLAIMER: The information herein is for educational purposes and does not constitute legal advice. For any legal matters, we urge you to take the advice of an attorney familiar with your case.
Image Credit: https://www.maxpixel.net/camera/Canon-EOS-70d-20